Make your own printable writing journal with handsewn spine in no time at all!
There's nothing like the feeling of holding a brand new writing journal in your hands just waiting for your story to unfold within its pages. Good quality writing journals can be quite expensive to buy however, which makes printable journals a great cost-saving alternative. In only a few minutes you can make your own high quality writing journal on your home printer using a printable writing journal kit, good quality cardstock and good quality copy paper.
Printable writing journals are easy to make and are perfect to use as a notebook, or for capturing all your private ideas and thoughts. You can assemble printable journals by stapling the pages together using a long reach stapler, or you could even sew them together using a sewing machine. However my favorite method of assembly is using pamphlet stitch which is a quick and easy method.
This writing journal is made using the Wild Soul Printable Journal, however you can use any type of printable writing journal, or even scrapbook paper for the cover and plain copy paper for the pages.
Instructions
Print out the cover onto a good quality cardstock, and the lined pages onto a good quality copy paper. I printed out ten lined pages which, when folded, will give me 40 pages to write on. You could print more or less as needed.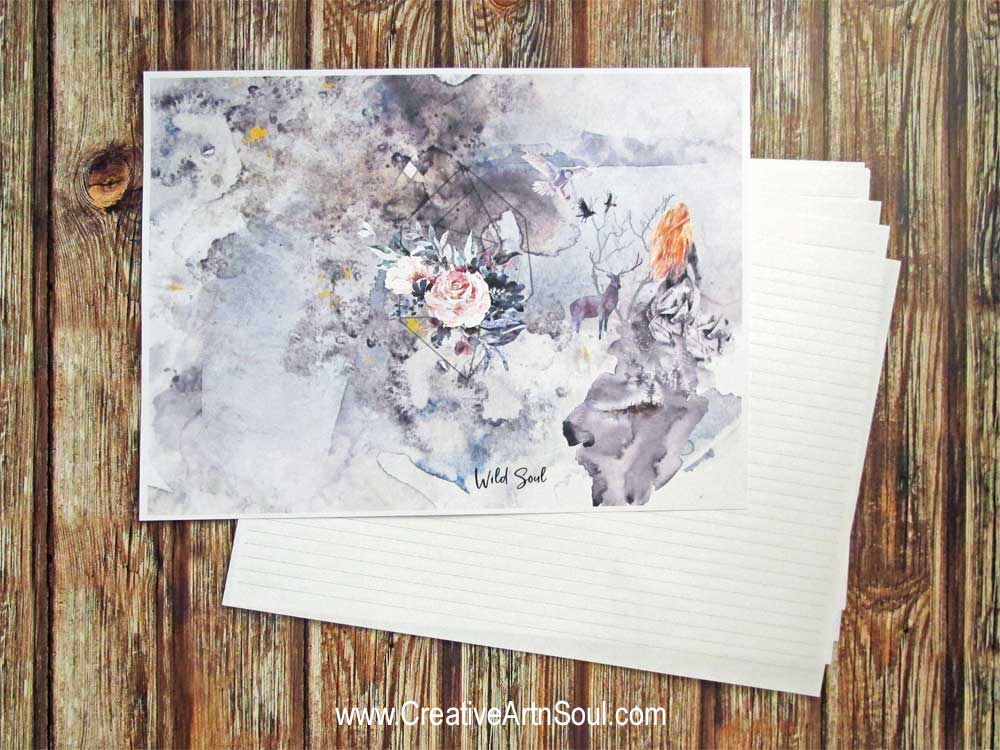 If your printer doesn't print borderless, you'll need to cut away the excess white border from around the edges. Using a stanley knife or rotary cutter and a ruler, cut away all four edges of the cover, and the top and bottom edges on the lined pages. I like to use a quilter's ruler because it's easy to see that everything is squared up correctly.
Fold the cover in half, press the fold with a creasing tool, then fold open.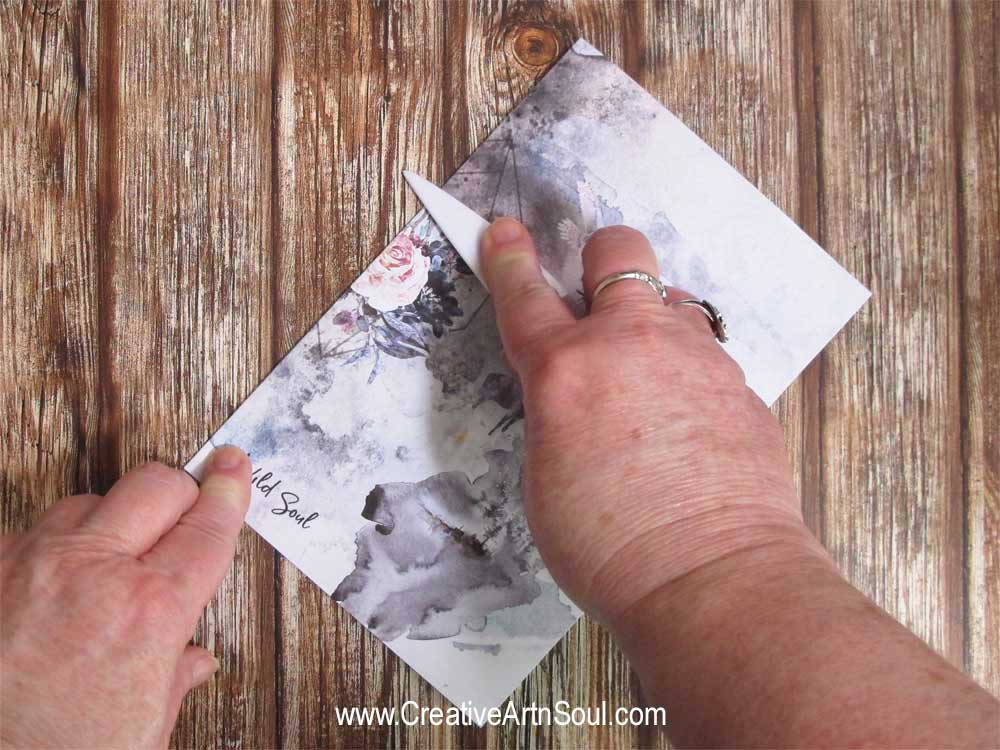 Align the top and bottom edges, and center the cover between the left and right edges. Use some binder clips to keep the pages together.
There are various methods you can use to assemble the journal. You could staple the pages together using a long reach stapler, or sew them together on your sewing machine. However my favorite method is to sew them together using a pamphlet stitch.Pamphlet stitch is a quick and easy way to assemble handmade journals and books. To get started you'll need some waxed bookbinding thread or strong embroidery thread, a large embroidery needle, and a bookbinding awl.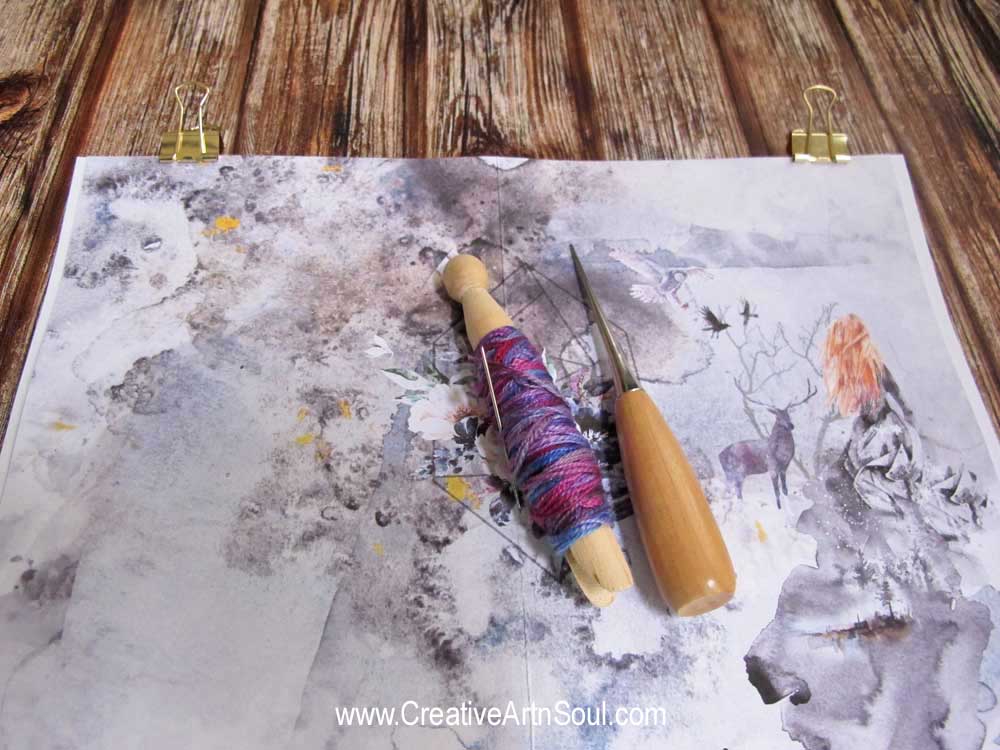 Using a sharpie, make three or five marks along the creased fold of the cover approx 1/2″ in from the top and bottom edge. You need to make an odd number of holes for pamphlet stitch.
Using a bookbinding awl, punch holes through all the marks.
Cut a piece of strong embroidery thread or bookbinding thread approximately twice the length of the journal, and thread it through an embroidery needle. Starting on the inside middle hole, push the needle through to the outside leaving a thread tail approximately 4″-6″. Then bring the needle back to the inside, then back to the outside.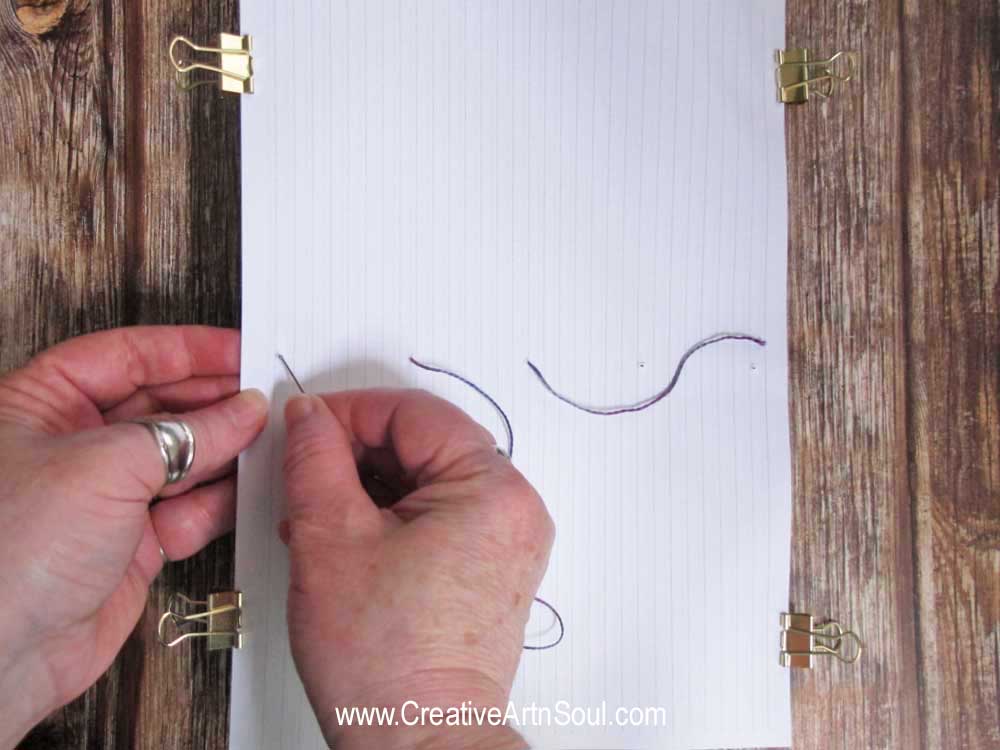 Push the needle in and out back through each of the holes to the other end of the journal, then back to the center.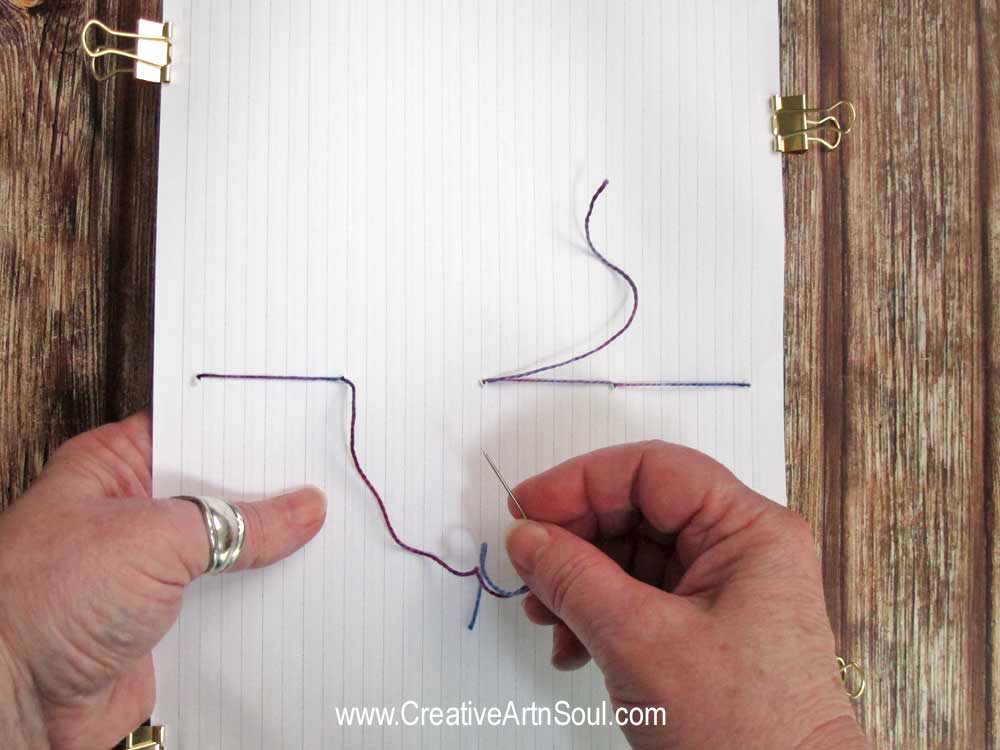 Tie off in a knot and cut the ends.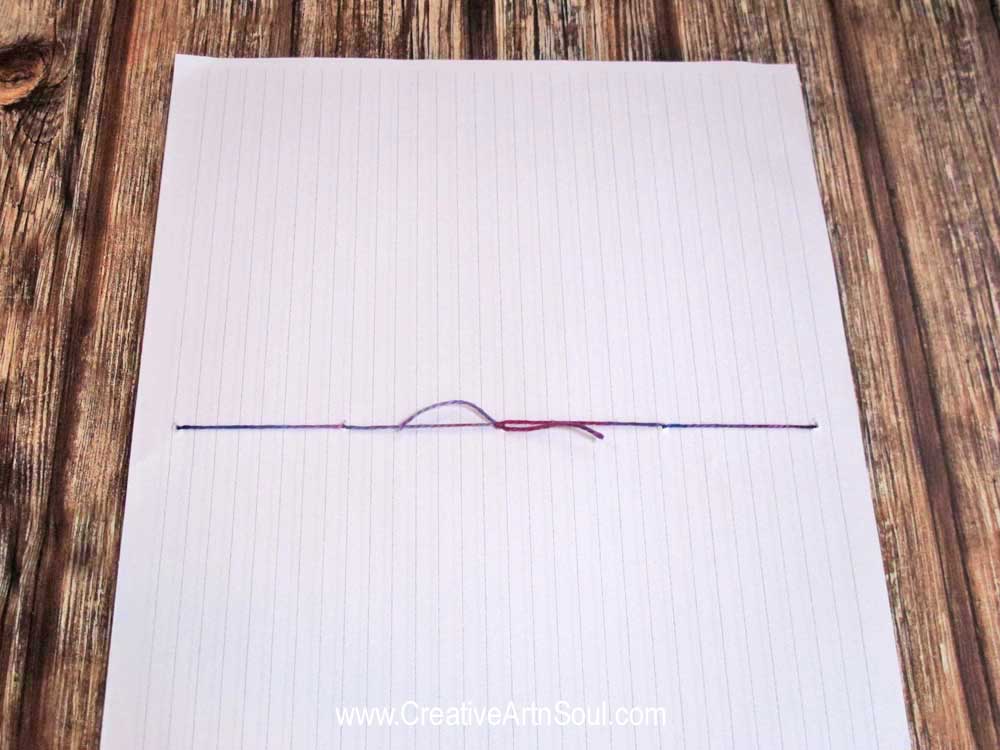 Fold the journal in half and press along the fold with a creasing tool.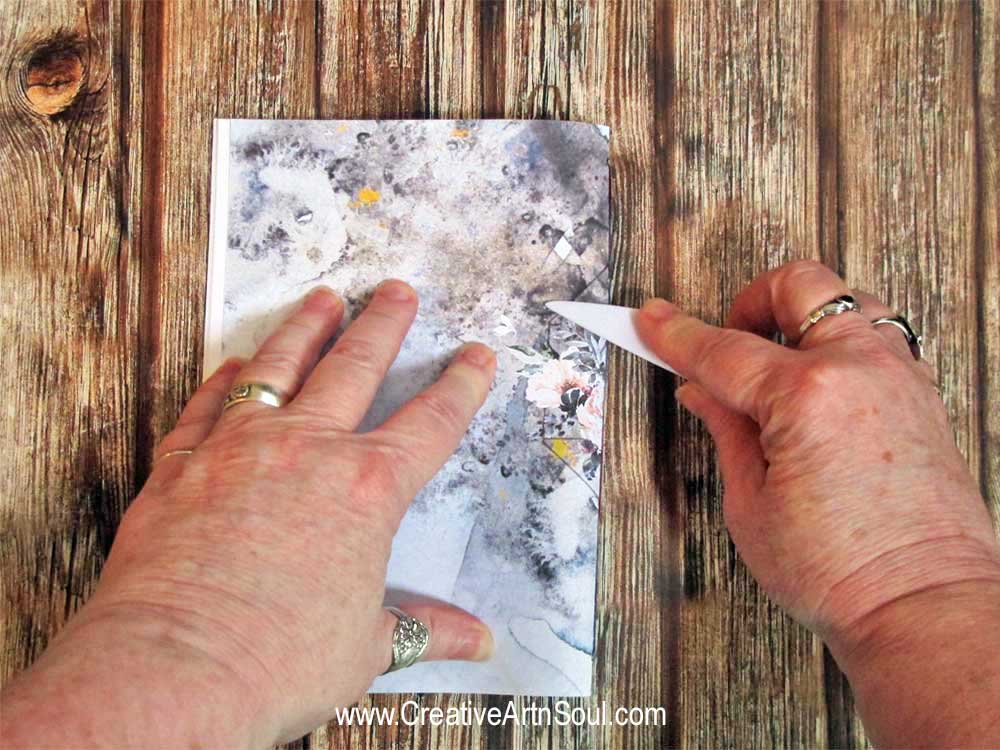 Align a ruler along the edge of the cover and trim away the excess edges of the pages using a stanley knife or a rotary cutter. Cutting the edges this way ensures that they are straight and even.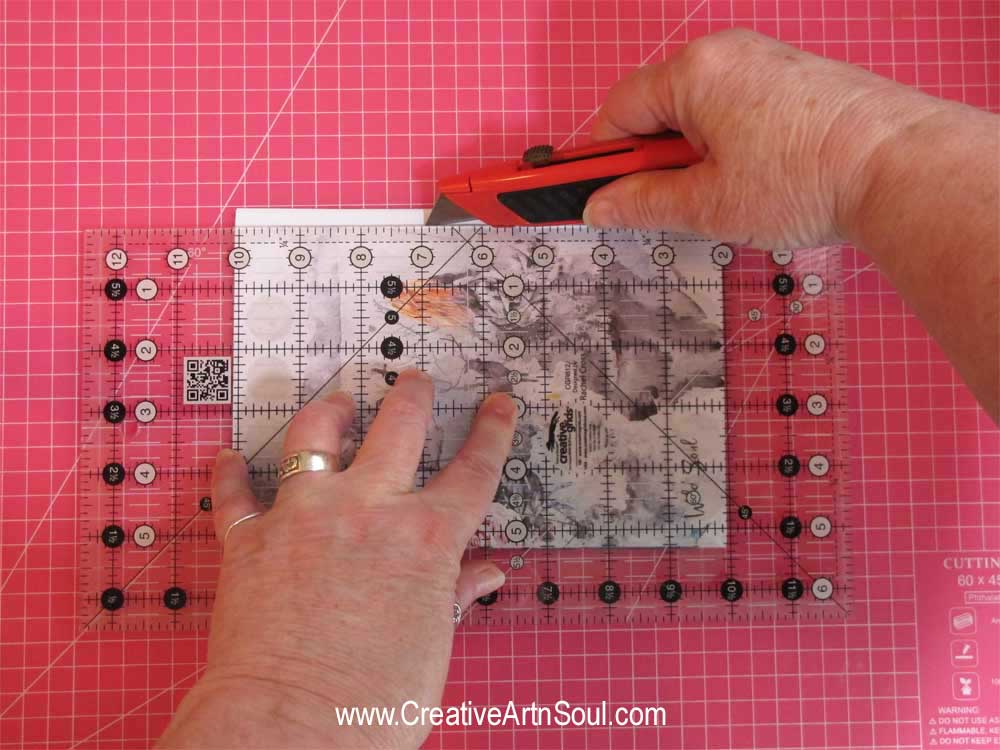 If the edges feel a little rough after cutting, smooth them with a piece of sandpaper or a sanding block.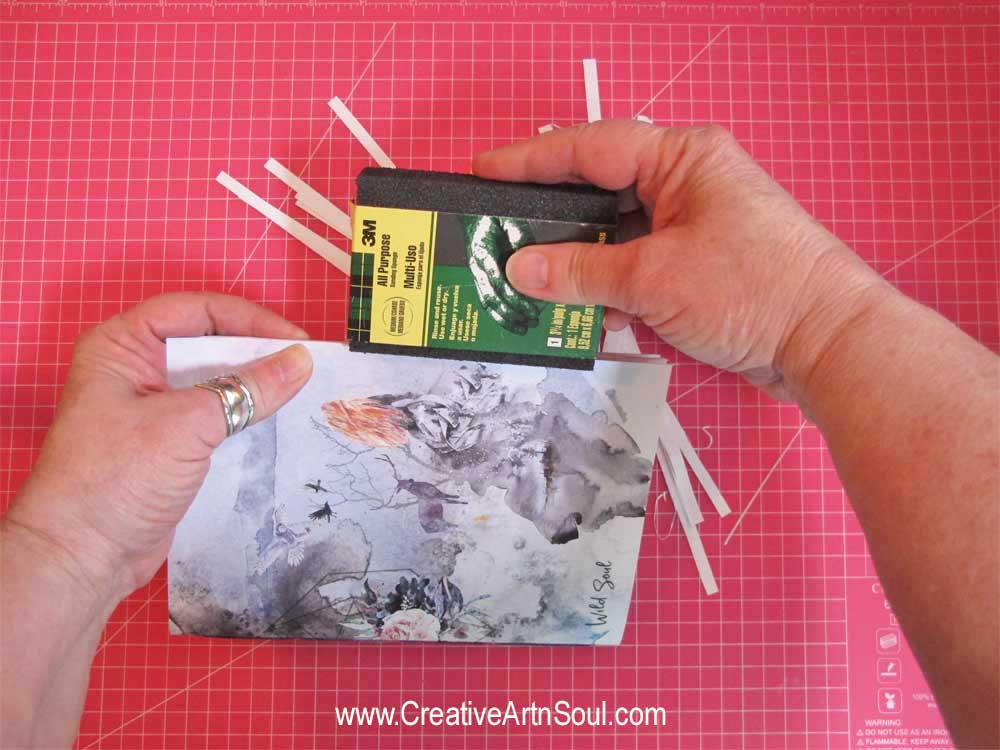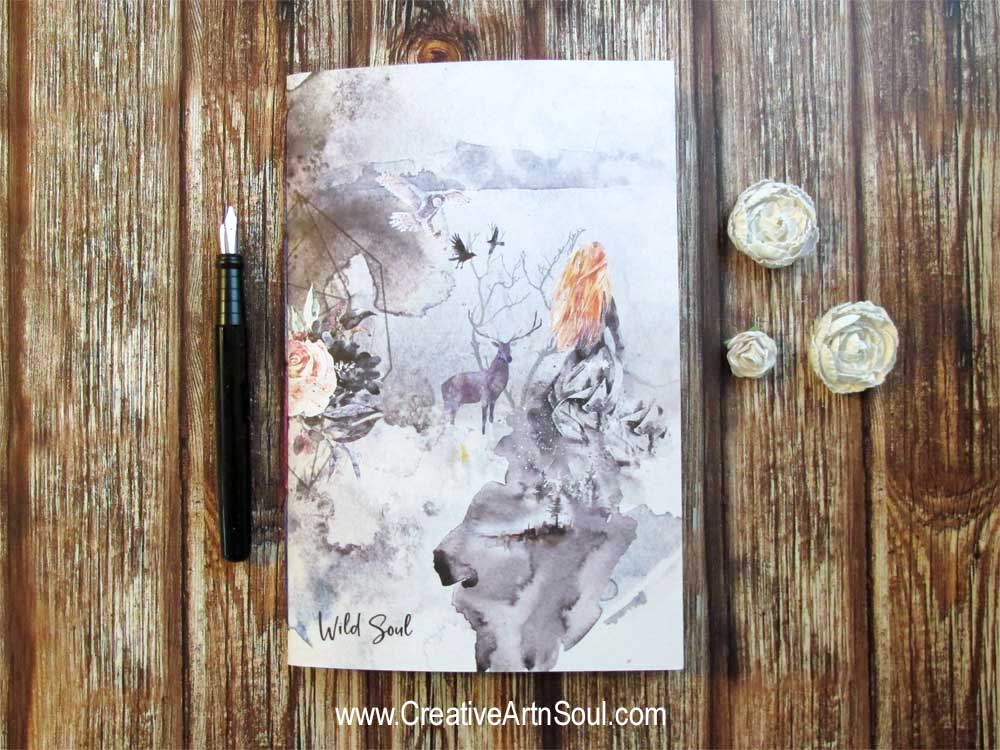 Save this pin to your favorite Pinterest board!